During the fall and spring, the Comox Valley fiddle group, Fiddlejam, hosts Contra dances at the Big Yellow Merville hall.  These dances are fun for young and old and, along with contra dances, also include waltzes, swing and celtic dances.  Dances are held on a Saturday and begin at 7:00 pm with a quick dance lesson and the official event starts at 7:30 pm and ends at 10:00 pm.
For the 2017 year, contra dances will be held on:
January 21 – Robbie Burns theme
February 18 – Valentine's Day theme
March 18 – St. Patrick's Day theme
April 8 – with the Fiddle Fest guest band
September 23 – Fall theme
October 28 – Halloween theme
November 18 – Christmas theme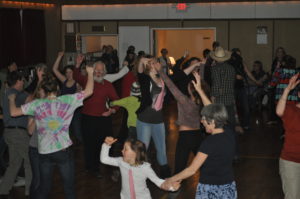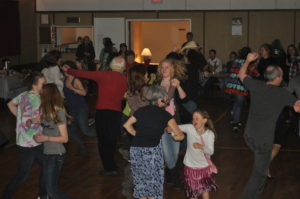 FIDDLE CONTRA DANCE at the MERVILLE HALL
Don't be a still life. Pear up with your friends or come alone and enjoy the dancing.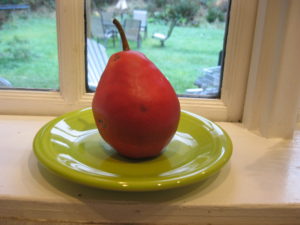 A recent attendee at the contra dance themed for St. Patrick's Day shared the following blog. Thank you for sharing your experience Keith Nicol !
http://keithnicol.blogspot.ca/2017/03/we-enjoyed-st-paddys-day-dance-at-big.html