The site includes three buildings: the Merville Hall, the 100+ year old Stolen Church and the Manse.  Other assets include a ball hockey rink, a children's playground, a large greenspace, and a parking lot. An outdoor marquee is used to publicize events.
Merville Hall
The hall is 2,400 sq.ft. in size. The upper floor consists of a large hall with high ceiling, six large windows, hardwood floor, and elevated stage with a 220v power outlet as well as a green room, full kitchen, canteen and washrooms. Capacity is 250 without a liquor license and 200 with a liquor license. The lower floor can be accessed by the front or back entrance and has two meeting rooms with windows, a washroom, and a utility area.
To date, the hall has been popular with a wide variety of community groups that host: musical events, fiddle contra dances, celebrations, meetings, craft fairs, political events, dog and sport clubs. With good acoustics, the hall has been gaining a solid reputation as a musical venue.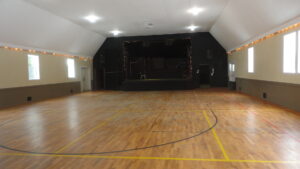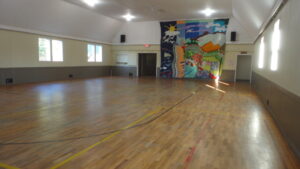 Stolen Church and Church Hall
These buildings were originally the 101 year old St. Mary's Church and Church Hall. Both buildings were moved to the site in 2014. The buildings are each 720 sq.ft. in size and have been placed on modern, fully insulated concrete foundations.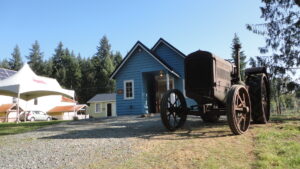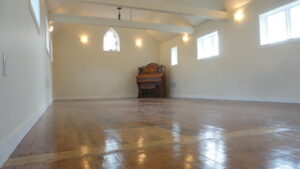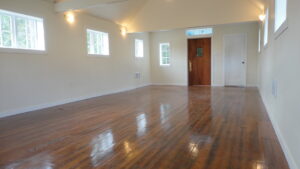 Greenspace
The greenspace offers 2 acres of grass that has been popular with dog and sport clubs and is used for overflow parking during big events.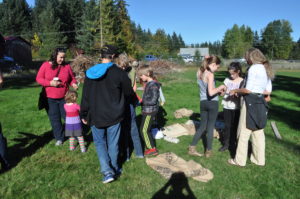 Community Garden
Read about our garden.
Other Amenities
The ball hockey rink has been used by informal sport groups and the playground has been popular with children during events.