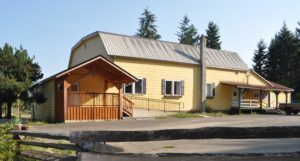 The Merville Community Association (MCA) operates the 3 acre Merville hall site for the benefit of the surrounding area community. Located mid-way between Courtenay and Campbell River, along the scenic Old Island highway (19A), the three-acre site offers a large community hall, two heritage buildings, and a grassy recreational space that is utilized by surrounding area residents for event and facility rentals.  In addition to the rentals, the MCA plays host to several annual community events including the Fiddle Fest, Christmas Craft Fair, Heritage Fall Fair, and Garlic Fest.
Building on market research and an industry planning session with stakeholders, the MCA decided to expand its focus to become a tourist attraction with a heritage and agricultural-tourism theme.
With this expansion, it is envisioned the site will be popular with both residents and visitors. For residents, the site will continue to be a venue for popular community events. For tourists, the site will focus on attracting heritage and wine & culinary enthusiasts by offering events throughout the year and partnering with hospitality and tourism operators.