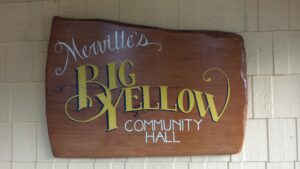 The Merville Hall, the two smaller buildings (The Stolen Church and Church Hall), field and ball court are each available for rent. The Hall has two levels. The upper level has a kitchen, stage and washrooms. Chairs and tables are available. Please read more details on our Facilities page.
Facility Rentals
Merville Hall – upstairs: $300/night Friday or Saturday, $25/hour weekdays; downstairs: $12/hour weekends and weekdays
Stolen Church or Church Hall – please inquire
Ball Court or Greenspace – $5/hour
How to Rent the Hall
If you're interested in renting the hall please download and fill out these two documents. Once complete, please email them to [email protected].
Annual Events
Garlic Festival Vendors – $20/table or 5% of sales whichever is greater
Other Events Vendors – $25/table
Contact