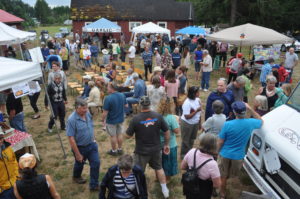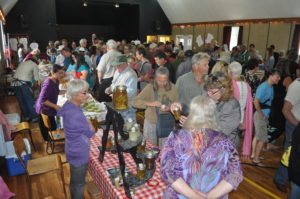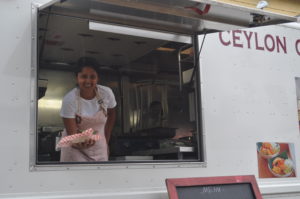 The Garlic Festival is a half-day event that offers a variety of garlic from local farmers; garlic infused products; food & beverage with a garlic twist; entertainment by musicians; and fun activities for children such as a hay pit, swings, ball tossing and face painting.  A popular event with about 1000 attendees so plan to get there early.
This year, the Garlic Fest will be held on August 18, 2019 from 12:00 om – 4:00 pm.
Vendors: cost for a table is $20 or 5% of sales which ever is greater. Register on our Rentals page.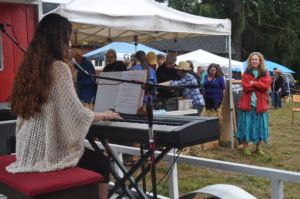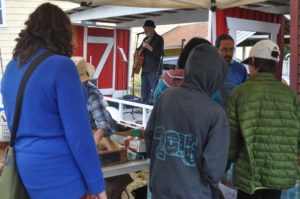 Annual Garlic Fest
Time to hold your nose and skip on down to the Big Yellow Merville hall for the Annual Garlic Fest.   Those garlic sellers are a jovial bunch so there will be lots of fun for all ages at this family event.
It is true that the Comox Valley is the Land of Plenty and it appears certain that the Merville hall is the hub of this large agricultural region.  Garlic is a mainstay crop here and growers rally around the festival each year to be celebrated and to sell their saporously fine crop.  This year, there will be dozens different varieties of stinky garlic offered by farmers.
You will be able to buy and taste garlic infused treats from food trucks and the hall kitchen.  While nibbling you can listen to talented local musicians and stroll amid a variety of artisans with items for sale.  Inside and outside the big hall, relax with a libation, breathe in the delightful aroma of garlic and indulge in a culinary offering of your choice.
There is no charge to attend Garlic Fest so come and check out the recent upgrades that have been made to the hall and grounds.  Parking has been greatly improved with the main entrance in at Fenwick Road and a new one way exit out from the field to the south.  So, right after church on Sunday, it'll be time to enter the Hallowed Hall of Garlic.  Actually, there is even a lovely, 103 year old church right on the Merville hall grounds.  Doors to the Big Yellow Merville Hall open at 12:00 noon and Garlic Fest runs to 4:00 pm.  More vendors are welcome to sign up.  FMI: Arzeena – (250) 702-5657 or Craig 250-339-4249.